Sell, plan, book, manage, merge, sync, and more.
Master Your Entire Sales and Catering Workflow​
When we say STS Cloud is "all-in-one" solution we really mean you can do it all.
To be truly effective in the Hospitality space, venues must stay one step ahead of the industry's evolving business challenges. In a business where timing can make or break a sale, workflow efficiency can be your greatest asset. STS Cloud is a web-based system designed to maximize the performance (and potential) of your event management team.
Extend the functionality of STS Cloud with the following add-ons.
Digital Proposals
Create beautiful sales proposals with the click of a button using ProposalPath.
e-RFP
Integrate your RFP into your existing hotel website.
Banquet Menus
Enjoy an easy menu management process for all your catering and beverages packages.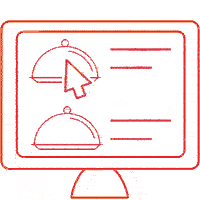 Online Menus
Share up-to-date, fully customized menus with the click of a link.
3D Floor Plans
Let your customer visualize their event space in photo-realistic 3D.
Floor Plan Mapping
Auto-generate custom floor plans for each client.
e-Signature
Close contracts with ease using our secure digital signatures.
Need a legacy software solution?
STS-R is our original desktop sales and catering software used by over 1,000 hotels.
"STS Cloud is a perfect fit for us at a fraction of the cost of other systems. It provides all the functionality we need for selling, meeting planning, group events and menus in an easy to use format."
JP Galli
General Manager, Fairfield Inn by Marriott
"I have extensive experience with hotel sales and event systems. STS Cloud from SalesAndCatering.com is the most intuitive system I have found; my team learned it quickly. It's flexible and provides all the functionality necessary to run sales and catering operations at one or more properties, regardless of size."
Maggi Vandenburg
Director of Sales, Beach Retreat & Lodge at Tahoe
"All our hotels with high traffic group sales use STS Cloud sales and catering software from SalesAndCatering.com. I am impressed with how STS Cloud combines powerful cost-effective functionality with ease of use. It manages our properties' sales processes, complex meeting and catering events and group bookings, and our staff learned it quickly."
Jody Cadle
Director of Sales & Catering, Shilo Inns